Class Act Tap Company
The Class Act Tap Company was founded in 1986 and is a service organization of 40 women who serve North Texas as volunteers by giving more than 3,000 free tap dancing in the past 35 years. The age range of the members is 55 to 85 with an average age of 70. Class Act has received many awards in their 35 years from veterans groups, civic organizations and the media. In addition, member Suzy Griffin was selected as Ms. Senior Allen and member Jill Rumbley Beam was selected as Ms. Texas Senior America in 2015.
The members giver over 150 performances a year. They perform at a wide variety of venues and for many groups including shows for veterans, seniors, corporations, charities, schools and churches. With a wide repertoire of "glitzy" costumes and "pizzazzy" dance routines, they customize their shows for specific groups and occasions including many shows each year during the Christmas season.
They invite you to visit their website at www.classacttap.com or call 214.528.9255 for more information.
Dallas Tap Dazzlers
With an average age of 69, the Dallas Tap Dazzlers is a 501(c)(3) organization formed in 1990 and not only "still around"… they're "still kickin!"  This exciting ensemble performs multiple times every month entertaining and inspiring groups of all ages. As a result, the Dazzlers are one of the most recognizable and sought-after groups in the Metroplex and beyond.
While the Dazzlers enjoy the benefits of exercise (weekly rehearsals and year-round performances), fresh air (check out any parade in the Dallas-Ft. Worth area), fellowship (most members have been Dazzlers for over ten years) and laughter (just meet any one of these fabulous women and you'll soon be laughing, too) their REAL reward is realizing they inspire women of every age. After almost 3,000 performances – in heels, fishnets and sparkling costumes – the entire group still loves to dazzle audiences with their high kicks and fast-paced snappy routines. They have had many memorable moments from tapping through Manhattan at the Macy's Thanksgiving Day Parade to performing on a Caribbean cruise. They even opened for a Lee Greenwood concert and appeared on Cross Canadian Ragweed's first music video which was nominated for the "Country Music Video of the Year."
They also have what they believe to be a World Record; six of their dancers have become Ms. Texas Senior America.
The Dazzlers encourage you to visit their website at www.dallastapdazzlers.org.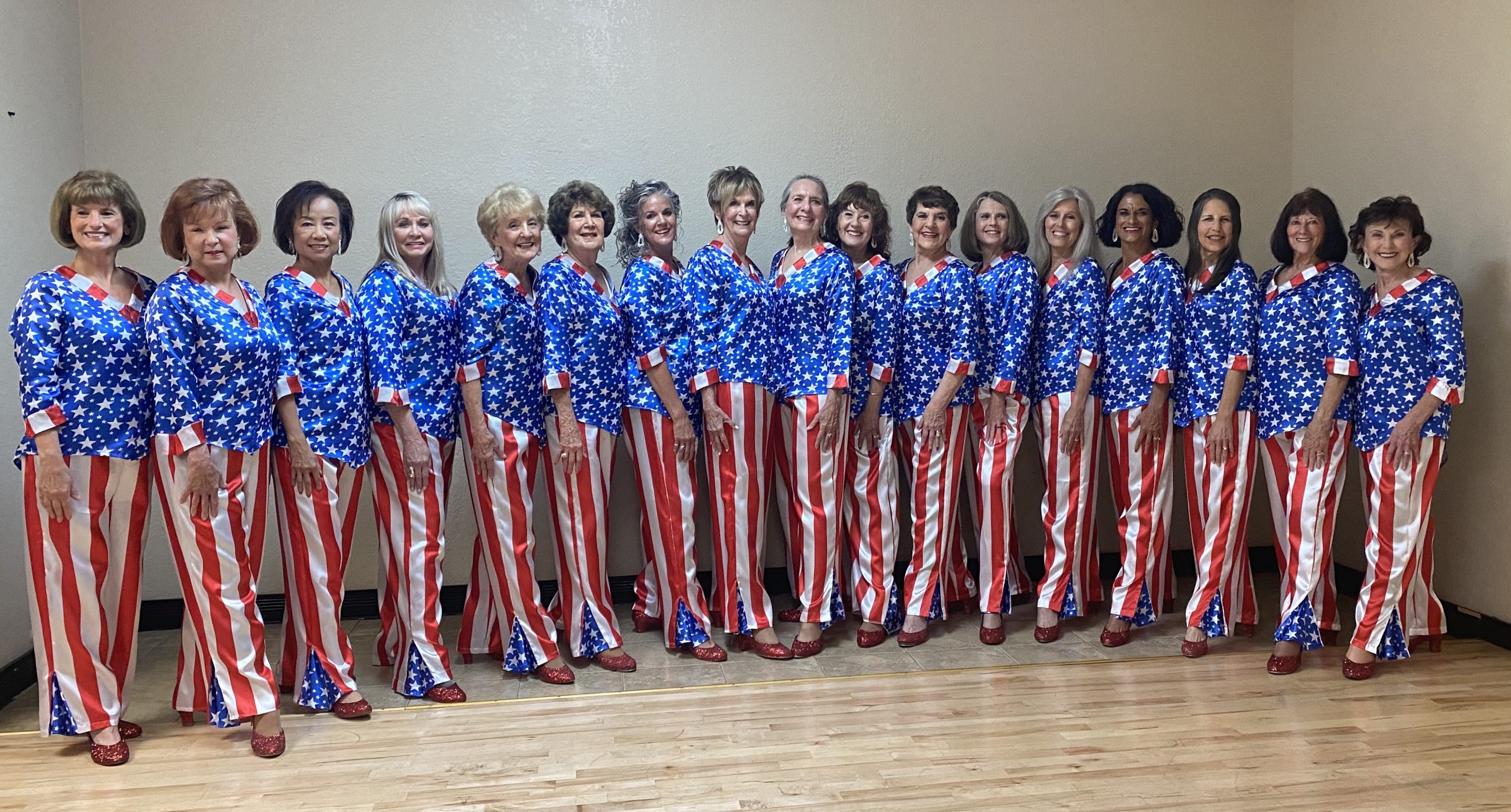 Groovy Ladies
Members of the Groovy Ladies have been part of the core dance ensemble since its inception. In 2013, the nine ladies became a specialty act, "The Groovy Ladies," named for an audition routine parody to Beyoncé's "All the Single Ladies." They have been delighted to perform featured numbers each year since then, including the fan-favorite "Our Favorite Son."